Images issued over assaults on women in Edinburgh home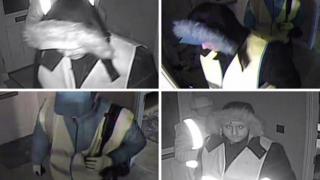 Police have released images of two men they want to speak to in connection with the assault of two young women in their Edinburgh home.
The attack happened in a house in Clovestone Gardens at 17:45 on Tuesday 7 February.
Both men were white, in their late 20s, 5ft 10in, and of medium build. In the images they are wearing dark trousers, high-vis vests and blue baseball caps.
One was wearing a parka-style jacket with a fur trimmed hood.
Det Sgt Martin Smith, of Police Scotland, said: "The males pictured are believed to be of significance to our investigation.
"Anyone who can assist in identifying them is asked to come forward.
"Similarly we would ask the males themselves to get in touch with police and help with our investigation."