Surgeons' Hall in Edinburgh upgraded to five star visitor attraction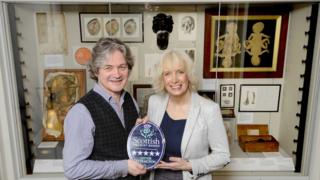 One of Scotland's oldest museums has been upgraded to a five star visitor attraction by the national tourism body.
Surgeons' Hall Museums in Edinburgh, which opened in 1832, saw its rating raised from the previous four stars.
It now has the highest accolade in VisitScotland's quality assurance scheme.
It was originally developed as a teaching museum for medical students.
The museum looks into Edinburgh's unique contribution to surgical practice with collections including bone, tissue specimens and artefacts.
'Brilliant work'
Owned by the Royal College of Surgeons of Edinburgh, the attraction consists of three collections - The Wohl Pathology Museum, the History of Surgery Museum and The Dental Collection.
Several criteria were used in the assessment by VisitScotland including the appearance and knowledge of staff, presentation and range of products and the layout of the shop floor.
Surgeons' Hall Museums was graded as exceptional for each.
Chris Henry, director of heritage at The Royal College of Surgeons of Edinburgh, said: "It was always our intention to provide a first class visitor experience at Surgeons' Hall Museums and this award recognises the hard work that all the staff put in to ensure that any visitor to the museum gets an enjoyable, enlightening visit."
Manuela Calchini, VisitScotland regional director, said: "We are delighted to award Surgeons' Hall Museums with our highest accolade for quality.
"The rating is testament to the brilliant work being done by the museums' staff to create a wonderfully unique visitor experience which now joins a number of other fantastic five star attractions on offer in the capital."