Passenger plane makes emergency landing at Edinburgh Airport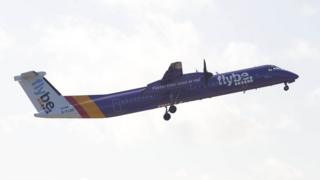 A plane has made an emergency landing at Edinburgh Airport after having issues with its nose wheels.
The Flybe plane, which was carrying 62 passengers from Exeter, landed safely after declaring a full emergency at 13:43.
Edinburgh Airport said nobody was hurt during the incident.
A Flybe spokesman said: "The flight landed safely at Edinburgh Airport following the report of a technical fault with the aircraft."
He added: "The pilot followed standard operating procedures and, as is usual in such circumstances, the airport put its emergency vehicles on standby.
"All 62 passengers disembarked as normal when the aircraft arrived on stand."