Trainspotting auction to aid Edinburgh charities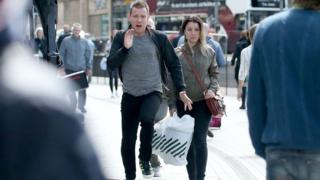 Two Edinburgh charities are set to benefit from the sequel to the film Trainspotting.
The Junction and Calton Athletic will share the proceeds of an auction of memorabilia from the sets of T2.
The online auction takes place next month to coincide with the film's US release.
Producer Andrew MacDonald said they chose to help The Junction because it works with young people on the "very streets" Trainspotting grew from.
Mr MacDonald said: "I was introduced to the Junction by their Patron Irvine Welsh last April and was so impressed by what I had seen that when it came to choosing the two beneficiaries of T2 Trainspotting Memorabilia Auction the Junction was an obvious choice.
"It feels really apt to be supporting The Junction in this way as it works with young people to reach their potential on the very streets Trainspotting grew out of."