Type One diabetes campaigners at parliament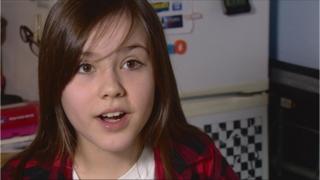 Relatives of people with Type One diabetes have joined campaigners at the Scottish Parliament to press for more research into finding a cure.
The propotion of Scottish people with the condition is the third highest in the world.
The rate of diagnoses, especially among children under five, is also growing steadily.
The Scottish government announced a further £10m last month for insulin pumps and monitors.
Amalia Holman, 11, from Bathgate, was diagnosed with Type I diabetes when she was three years old.
She said: "I do finger pricks but I also check the CGM quite a lot to make sure my levels are ok.
"I can also feel when I'm going to go low and when I'm high."
'Knew very little'
No-one in the family had any history of the disease, learning to live with it was a roller coaster journey for her family.
Her father Dave Holman said: "It was an absolute rollercoaster because we had no history of this in out family, that we are aware of.
"No-one in our family has had type one diabetes so we knew very little about it.
"So it was a complete shock for us, stunned and then a very fast learning curve about how to deal with it."
Her mother Triinu Holman said: "At night she is hypo unaware, so if she drops into a hypo she won't wake up, so we had to set the alarm at random times during the night to check she was ok and that her levels were ok."
Now Amalia uses an insulin pump and monitor - the family say they had to fight to have it funded by the NHS. They would like more technology available to all families like them.
About 30,000 people in Scotland have the auto-immune Type 1 diabetes and that number is growing every year.
A child will face more than 19,000 injections by the time they get to 18. The campaigners hope that by the time the next generation reaches adulthood, Scotland may be key in the drive to find a cure.