Scot misses out on Las Vegas simulator race prize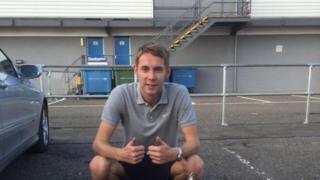 A 26-year-old Edinburgh man has missed out on the biggest prize in eSports racing history after crashing halfway through the race.
Graham Carroll was competing in the Visa Vegas racing car simulator event in a bid to win $200,000 (£162,000).
The 28-lap race in Las Vegas, part of the FIA Formula E Championship, was won by Bono Huis, from Faraday Future Dragon Racing.
Mr Carroll was involved in a crash on a bend with three other drivers.
The event was timed to coincide with the last day of the CES tech expo in the city.
Alejandro Agag, founder and chief executive of Formula E, said: "This first eRace in Las Vegas was a great success
"It's exciting to have brought Formula E into the inner sanctum of CES - the biggest and most influential technology show in the world. I think this can be the first in a big future for Formula E in eSports racing."
---
More from CES 2017
Car-makers choose virtual assistants
Ford sticks to self-driving cars by 2021 pledge
Strap turns your finger into a phone
Jeans tickle users to keep them on track
Read all our CES coverage at bbc.co.uk/ces2017