Kittens found dumped on road verge in West Lothian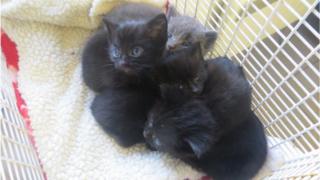 Five kittens are being hand reared after they were found dumped at the side of a road in West Lothian.
The young cats were found huddled together at the base of a tree in the Bathgate Hills on Sunday by a dog walker.
Animal welfare officers said it had been "cruel" to abandon young animals at such a cold time of the year.
The Scottish SPCA said dumping animals was an offence under the Animal Health and Welfare (Scotland) Act 2006.
People face a pet ban if they are caught dumping animals.
The kittens are now being looked after at the Scottish SPCA's animal rescue and rehoming centre in Balerno in Edinburgh.
Jenni Surgeon, of the Scottish SPCA, said, "The kittens were terrified, but fortunately they are now safe and sound thanks to a vigilant dog walker.
"We are now searching for the person who cruelly abandoned these defenceless kitties at such a cold time of the year."