HGV manager banned for tachograph tampering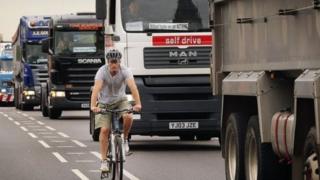 A haulage firm manager has been banned from operating heavy goods vehicles for 18 months after he tampered with tachograph recording equipment to hide his driving times.
Halbert Dow, from North Berwick in East Lothian, was also disqualified from driving lorries for 12 months.
The Traffic Commissioner for Scotland, Joan Aitken said the orders would take effect from 23:59 on 31 December 2016.
She found that Mr Halbert Dow had "lost his repute as a transport manager".
The commissioner's report said Mr Dow had authorisation for three vehicles and three trailers but since April 2013 there had only been one vehicle specified on the licence.
Miss Aitken said: "I find that [Mr Dow] has interfered with the tachograph recording equipment to disguise his driving and duty time and that he did such for his commercial and personal advantage and with disregard to road safety and fair competition."
She said the orders would take effect at the end of the year to give him time to wind up his business.
Serial breaches
Meanwhile, Whitburn-based haulage firm MJB Haulage Ltd has had its operating licence revoked by the Traffic Commissioner for Scotland.
The firm's director, Ian Russell, has been disqualified from operating vehicles for four years.
She has also disqualified the firm's transport manager, Darren Drummond, from acting in that role for four years.
The Traffic Commissioner also made an order to revoke Mr Drummond's vocational driving licence and disqualify him from professional driving for two years.
Another company driver, Alexander Gunn, was disqualified for 12 months.
The orders take effect at 23:59 on 31 December 2016.
Miss Aitken said: "There were serious and serial breaches of the drivers' hours rules.
"Driving without a card was a regular feature of use in 2015 and that included transport manager driver Darren Drummond repeatedly driving without a driver card inserted and that for the purpose of extending his driving time and commercial and convenient use of the vehicle such that required breaks and rest were not taken as required."