Cyclist appeal after biker dies in Edinburgh crash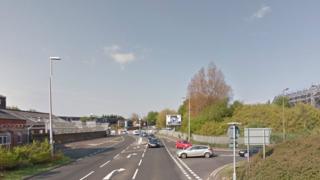 Police have appealed for a cyclist to come forward after a man died when his motorbike was in collision with a bicycle on an Edinburgh road.
Duncan MacIver, 52, from Edinburgh, was killed in the accident which happened at about 17:20 on Friday on the city's West Approach Road.
Mr MacIver and a female pillion passenger were thrown from the Suzuki motorbike as a result of the collision.
She was uninjured but Mr MacIver died a short time later in hospital.
The cyclist also fell off his bike and initially remained at the scene. However, he left before police arrived.
Police said it was not known whether he was injured in the collision.
They have urged him to contact police immediately to help with the ongoing investigation.
He was described as a white man aged about 50. He was wearing dark clothing and riding a dark-coloured bike.
Sgt Ross Drummond, of Police Scotland, said: "It is possible that the pedal cyclist did not realise the seriousness of the collision when he left the scene and I ask that he now comes forward to assist us in establishing the full circumstances of the incident
"In addition, anyone with any further information is also asked to get in touch."