Carer Margo Alongi jailed for stealing from patients' bank accounts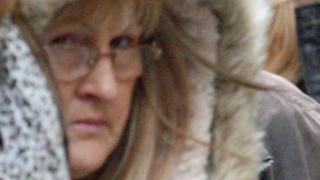 A carer who fraudulently withdrew almost £46,000 from the bank accounts of two pensioners she was looking after has been jailed for two years.
Margo Alongi, 54, from Musselburgh, was found guilty of defrauding Roy Scott, 68, of £2,350, and Elizabeth Lynch, 78, of £43,600, between 2010 and 2014.
Both her victims are now deceased.
Sheriff Fiona Tait said the nature of the offences and the sums involved meant there was no alternative to a custodial sentence.
Alongi had denied stealing the money during a 10-day trial at Edinburgh Sheriff Court last month.
The court heard the 54-year-old had been given her clients' bank cards so she could make small transactions and withdrawals for her patients.
However, she made various withdrawals, keeping the money for herself.
'Entrusted with their care'
Police investigations began when Ms Lynch died and her niece, Lynn Harrison, as her executor, studied her bank statements.
Defence solicitor Emma Templeton told the court that the case had had a devastating effect on her client's family.
Alongi has five daughters, aged between 18 and 28, and she said they had suffered aggression and hostility in the community since the case came to court.
Alongi's 78-year old mother, she said, was not in good health and it was deteriorating rapidly because of the case.
Ms Templeton had presented the court with a number of references in support of Alongi from other members of the community.
She added that Alongi had no previous convictions and had never come to the attention of the police or courts before.
Passing sentence, Sheriff Tait said: "The nature of these offences and the sums which were involved in defrauding two elderly people, each of whom was vulnerable for different reasons and you were entrusted with their care, means I am not persuaded there is an alternative to a custodial sentence."