Poor maintenance threatens Edinburgh World Heritage status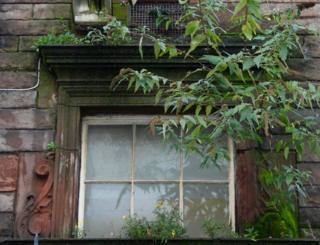 A conservation charity is warning that Edinburgh's World Heritage status is under threat because of the state of some of its historic buildings.
Edinburgh World Heritage surveyed 202 buildings in the centre of the city.
It found 147 buildings (72%) were in need of some sort of repair - most are privately-owned historic tenements.
Problems included things like gutters blocked by leaves and vegetation, rotten window frames and damaged stonework.
Edinburgh World Heritage said "complacency" and lack of attention to basic building maintenance was putting the city's Unesco status at risk.
It said badly-maintained buildings were as much of a threat as inappropriate new development.
The city's old and new towns have held Unesco status since 1995 and are among six world heritage sites in Scotland.
Adam Wilkinson, director of Edinburgh World Heritage, said: "We often think of inappropriate new development as the major threat to our World Heritage site - but the complacency that leads to poor building maintenance is an equal threat.
"Edinburgh World Heritage stands ready to provide advice and grants to support residents and businesses so that we pass on our beautiful old buildings to the next generation in the best possible condition."
Gordon MacDonald, MSP for Edinburgh Pentlands, added: "Everyone has a role to play here in ensuring that our own buildings - the places where we live and work, are wind and water tight and properly maintained.
"This is crucial work for the long-term conservation of our World Heritage Site here in Edinburgh - and can play an important role in reducing unsustainable energy use, which is good for everyone."
Shared repairs
Cllr Ian Perry, planning convener at Edinburgh City Council, said: "Our World Heritage Site is of crucial importance to the future vision and development of the city.
"Last month, we published feedback from a consultation on residents' views to be considered for a new Management Plan for the World Heritage Site, which is expected to launch next year.
"Care and maintenance of streets and buildings was one of the issues raised and the comments received will help us to make improvements going forward, along with our partners Edinburgh World Heritage and Historic Environment Scotland, in managing the site."
He added: "We would agree that owners need to take full responsibility for their buildings throughout the city. Where this fails, we are currently developing a new service, Edinburgh Shared Repairs Service, to help those living in tenement blocks to get together with their neighbours to carry out necessary maintenance and repairs.
"Our property sub-committee has also tasked officers to consult with stakeholders to get views on the current legislation on this area. This would then also allow us to approach the Scottish government, if felt appropriate, to recommend new or amended legislation."