Noise main issue in Edinburgh Airport flight path consultation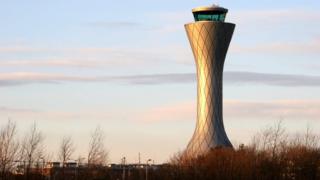 Almost 6,000 responses were submitted to a first consultation on changes to Edinburgh Airport's flight paths.
Scotland's busiest airport has published an initial report on its "Airspace Change Programme".
Those who took part raised concerns about noise and pollution levels and the impact differing flight paths could have on local areas.
The data will be used to draw up flight path options with a second consultation due to begin in the new year.
Campaign group Edinburgh Airport Watch said the report lacked detail and was an "emphatic thumbs down" for the airspace plans.
It also questioned the decision not to fully publish all of the responses.
The first consultation phase ran from June until September and asked the question: "What local factors should be taken into account when determining the position of the route within the design envelope given the potential impacts, and why?"
It ended a week later than planned after the airport was forced to apologise for losing almost 200 responses.
Just 1% of 334 councillors contacted over the flight paths responded to the consultation on the issue. All of Scotland's 129 MSPs and 59 MPs were also contacted, with 11 replying.
Edinburgh Airport has said the changes are needed in order to modernise its airspace as passenger numbers continue to grow. In 2015, it had 11.1 million passengers pass through its doors.
Some residents have argued they have already been affected by noise pollution from changes in the flight paths and have accused the airport of pushing ahead with expansion without considering other ways to increase capacity.
The initial report detailed who took part in the consultation, what they said and how the airport engaged with local residents, businesses and organisations that may be affected.
Community meetings and drop-in sessions were held and the airport met councillors, MSPs and MPs.
The airport said the responses included:
85,342 visits to its website and 5,880 submitted responses
Three out of 334 councillors contacted responded
11 out 188 MPs and MSPs contacted responded
The airport emailed 916 stakeholder organisations - 34 responded
33 out of 226 Community Councils responded
The report said 70% of the responses from the Community Councils were negative and 59% of the feedback from councillors, MSPs/MPs and stakeholder groups was negative.
Noise was an issue raised in 3,370 responses. People had concerns about the impact of increased noise caused by more overhead flights and some were worried about flights at unsociable hours and the potential for sleep disturbance.
In 1,198 responses, alternative flight path proposals were suggested - with some urging the avoidance of flying over towns and residential areas and other suggesting flights stay over water for as long as possible.
Health concerns were raised by 878 of the respondents.
The responses were also broken down by location - with the majority being negative in seven out of the nine areas looked at. Only in East Lothian and Midlothian did most people submit positive or neutral responses.
Gordon Dewar, Edinburgh Airport's chief executive, said: "We have gone over and above and what any other UK airport has done in terms of reaching out and listening to our neighbouring communities.
"Meeting and listening to people in our neighbouring communities has been an invaluable exercise for us; we have learned a lot about their hopes and concerns are in regards to the growth and development of Edinburgh Airport."
Geographical areas
He added: "This report does not put forward our response to the consultation. Instead, it describes what we did to highlight this initial public consultation and what the public, organisations and elected representatives told us.
"We will be presenting our design options - in part guided by the findings of this initial consultation - and beginning a second consultation in early 2017."
A spokeswoman for Edinburgh Airport Watch said: "We are saddened and disappointed to see that Edinburgh Airport has not followed through on its promises of openness and transparency, and has failed to publish in full the anonymised responses it received to this initial consultation so that the process can be open to independent scrutiny.
"While we remain unclear of the criteria the airport has used to assess the comments received, it is obvious that the vast majority of responders across many geographical areas are in the 'negative' category and have stated loud and clear that they simply do not want to be overflown by noisy and disruptive aircraft."
She added: "In any reasonable consultation process, the status quo should always be an option.
"It is clear that the airport does not enjoy any support from communities for the changes to flight paths it says are necessary, so we urge them to rethink and take the pattern of use of the airspace back to how it was in 2015."