William Marshall jailed for four years for killing partner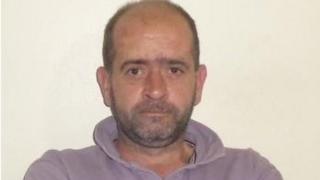 A man who killed his partner and then watched football on TV with her body next to him has been jailed for four years.
William Marshall, 43, attacked Jennifer Edwards at her home in Kirkcaldy, Fife, in June last year.
He went on to take cash from her bank account before dialling 999 to claim he had found the sports therapist dead.
Marshall, from Cowdenbeath, Fife, pled guilty to culpable homicide at an earlier hearing.
The family of Ms Edwards, 45, said the sentence given to Marshall would never compare to the life sentence he had imposed on the family.
'Afraid for lives'
In a statement, they added: "We hope today's sentence will act as a deterrent to the cowards who abuse their partners and act as motivation to the women who are afraid for their lives - that they must seek help before they follow the same path as our Jen.
"Please do not be afraid any more. There is so much help available for you.
"It's now time for our family to close this chapter, to grieve and remember the good times we shared with Jen - a daughter, a mother, a sister and friend. We thank the press for respecting our privacy during this time of sadness."
At the High Court in Glasgow, Lady Rae branded the crime as "very serious" and said Marshall had shown a "callous attitude" to his girlfriend.
The judge added: "You assaulted her and left her. As a result of your actions, she tragically died."
Ms Edwards had moved to Scotland from New Zealand and the couple had been in a five-year relationship prior to the killing.
Marshall was already known to be violent towards her and in 2014 was fined after being convicted of assaulting her.
There were also 84 "domestic incidents" logged by police.
Prosecutor Keith O'Mahony said: "Numerous witnesses speak of Miss Edwards complaining about Marshall's violence.
"He also made an admission to a family member that he had given her a black eye.
"In March 2015, she told a friend that she was frightened he might kill her one day."
Blunt force
Marshall had originally faced a murder allegation before prosecutors accepted his guilty plea to culpable homicide.
The court heard that - despite his violent past - Marshall did not accept being in an "abusive relationship".
Gordon Martin, defending, said Marshall's memory of the fatal attack is that he recalled pushing his girlfriend causing her to bang her head.
Lady Rae told the court her "hands were tied" regarding sentencing as Marshall's explanation seemed to have been accepted.
But, the judge stated this was not "consistent" with the charge that Marshall "inflicted blunt force trauma".
Lady Rae went on: "The sentence will be less than any I would have otherwise imposed to reflect the terms of the current libel."