Drive to tackle rubbish in Edinburgh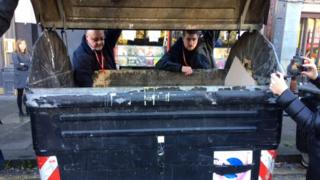 A drive to tackle rubbish, fly-tipping and dumped trade waste on Edinburgh's streets is under way.
The second phase of the Our Edinburgh initiative, which aims to address anti-social behaviour like littering, has started in Leith Walk, identified as a hotspot for overflowing bin complaints.
The campaign focuses on fly-tipping and misuse of communal bins by traders.
It will also show residents how to properly dispose of their waste to stop bins overflowing.
There will be radio adverts, social media, posters and branding for communal bins, and more environmental wardens in the area to give information and help.
'Unsightly and frustrating'
Lesley Hinds, City of Edinburgh Council's transport and environment convener, said: "We're making a real effort to address issues with waste and cleansing in the capital, and the Our Edinburgh campaign is central to changing behaviour around things like litter-dropping and fly-tipping.
"By helping residents and businesses around Leith Walk to understand what can and can't be disposed of in communal bins, amongst other measures, we really want to reduce the unsightly and frustrating problem of overflowing bins in the area."
The first phase of Our Edinburgh, run over the summer, targeted litter-droppers in the city centre with brightly-coloured bins, portable ashtrays and 'bin me' labels for takeaway packaging.
It is hoped the initiative will replicate the success of the first phase, which saw a 52% increase in the amount of litter collected from bins.