Diwali festival to light up Edinburgh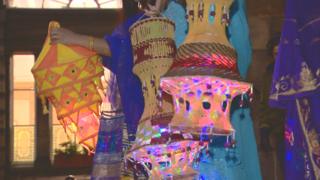 Fireworks, Indian floor art, prayers and the lightening of oil lamps are all part of Diwali celebrations in Edinburgh this weekend.
Hundreds of people are expected to descend on the special event the Ross Theatre in Princes Street Gardens on Saturday from 14:00.
Diwali is colourful and vibrant and signifies the return of Rama to his kingdom following 14 years in exile.
The event is being held two weeks after the official date of Diwali.
The festival of lights symbolises victory of light over darkness, good over evil, knowledge over ignorance and hope over despair.
The city's Lord Provost Donald Wilson is the Edinburgh event's patron.
Mr Wilson said: "Diwali is a dazzling festival of lights, live music and dancing and symbolises the victory of good over evil.
"I am delighted that we have been able to expand this event into one which is fitting giving its importance in certain parts of the world and also bringing Edinburgh's communities together in a multicultural way.
"This month, Diwali will brighten the Ross Bandstand and the city's sky with thousands of sparklers and fireworks. Don't miss it."
New for this year, a mini festival cavalcade will feature thousands of decorative lanterns and costumes and will led by the Lord and Lady Provost of Edinburgh.
It will leave the City Chambers and pass through The Royal Mile, The Mound and Princes Street Gardens.
Entertainment will be free and include Bollywood dancing and bagpipes.
More than 1,500 large sparklers will light up in sync at 18:30 and a fireworks display of rockets and Catherine wheels will celebrate the Festival of Lights.
Food Stalls will have spicy Indian curries and snacks and a mobile bar will offer mulled wine.