MSPs write to Lord Advocate urging motorbike crime action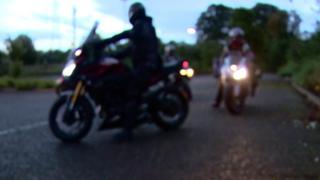 A cross-party group of MSPs is calling for more action to stop motorbike-related crime in north Edinburgh.
Muirhouse and Pilton residents have complained of living "in fear" after a rise in motorbike theft and violence by teenagers.
Six MSPs from different parties have now written to the Lord Advocate and justice secretary asking if more could be done to tackle the problem.
Vehicle theft in the capital is up by more than 20% this year.
The MSPs said they want an investigation into the range of penalties that can be imposed on youngsters who are stealing bikes and threatening residents.
Despite targeted efforts by police to catch and arrest those involved, the perpetrators often end up back in the community committing similar offences, they said.
Some residents have complained they are frightened to go out after dark. The biking community has also faced threats.
In June a 14-year-old boy was killed in an accident while riding a stolen motorbike.
Ben Macpherson, MSP for Edinburgh Northern and Leith, said: "The theft and anti-social and dangerous joyriding of stolen motorcycles in Edinburgh is an issue that we should all be determined to address.
"Police Scotland, community groups and youth initiatives have been working hard to tackle the situation and it's important that politicians work together to support them.
"Myself and several other Edinburgh MSPs have written to the Lord Advocate and Cabinet Secretary for Justice to see what more action can be taken.
"It is vitally important when it comes to community safety that politicians work together to make a meaningful difference for those affected and the communities we represent."
A spokesman for the Crown Office and Procurator Fiscal Service said: "We can confirm the letter has been received and we will respond in due course."