Rapist Andrew Steele jailed after child abuse confession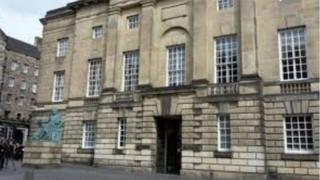 A Fife child rapist who walked into a police station and confessed to abusing girls has been jailed for 10 years.
Andrew Steele, 49, from Dunfermline, told officers he raped one girl and assaulted another between 1996 and 2005.
A report prepared on Steele assessed him as posing a high risk of re-offending if he had access to children.
Lord Bannatyne told Steele at the High Court in Edinburgh: "You are clearly a material risk to children."
Defence solicitor advocate Krista Johnston said: "It is somewhat unusual in that he attended the police station after discharge from hospital.
"He went straight down to the police station and spontaneously admitted it to the police at a time when police did not have a report from the victims."
The judge told Steele the sex crimes he had pled guilty to were "utterly deplorable offences" involving the abuse of young children over a significant period of time.
Lord Bannatyne said all the offences were serious but the one involving the repeated rape of a girl was "extremely grave".
The judge said the offending had had a significant effect on the victims and added: "I think it is proper to say your actions towards them have had life-changing effects."
Alcohol withdrawal
Lord Bannatyne ordered he be placed under supervision for a further five years and warned that if he failed to comply with licence conditions during that period he could be returned to jail.
He also told Steele he would be on the sex offenders' register for life.
Steele admitted abusing one girl from the age of seven at addresses in Kirkcaldy and later raping her as a teenager at a house in the Fife town and in a tent. He also admitted molesting a second girl from the age of eight in Kirkcaldy. His offending began in 1996 and continued up until 2005.
Advocate depute Mark McGuire told the court both victims had previously made disclosures and police were contacted but the allegations were retracted.
The prosecutor said immediately before Steele had turned up at the police station to make his original confession, he had been at hospital claiming he was hallucinating.
He said Steele was seen by doctors who concluded that he was suffering from alcohol withdrawal and considered him fit to be discharged.
Steele told officers his mother was "up in the sky" urging him to confess to the sex crimes when he made his revelations.
Ms Johnston said following the confession Steele had reverted to being in denial. She said he now felt "disgusted and ashamed" over the offending.
She said: "As a consequence of his acceptance of his responsibility he has given some closure to the victims."