Developers downsize Royal High hotel plan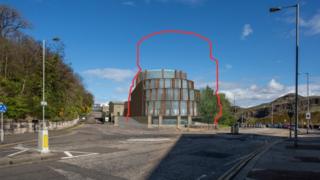 Plans to turn the old Royal High School into a hotel have been scaled back by developers in a bid to win planning permission.
Proposals for the A-listed Calton Hill building were rejected last year.
Duddingston House Properties and the Urbanist Group hope to submit the new plans to the council early next year.
The new proposals show the "wings" at either ends of the hotel to be smaller and set further back from the road. The building has lain unused since 1968.
David Orr, chairman of Urbanist Group, said: "Significant modifications have been made to the scale of our plan.
"We have made changes to the scale of the hotel following a series of design workshops earlier this year with planning officials, taking careful consideration of heritage aspects and public comment from our previous proposals.
"The design combines the sensitive, fully-funded restoration of an architectural masterpiece, currently at risk, with the creation of a world-class place for people from around the globe to experience the best of Scotland.
"By creating over 250 jobs in the hotel alone we are combining cultural and social benefits with direct economic and career opportunities for local people."