Two men seriously assaulted in Broxburn street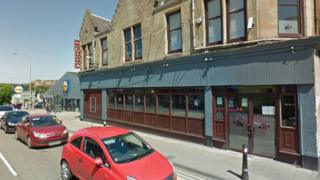 Police in West Lothian are appealing for witnesses after two men were seriously assaulted.
The incident happened at about 01:50 on Sunday in Greendykes Road, Broxburn.
A 35-year-old woman and 32-year-old man left The Club when they became involved in a dispute with a large group of male and female youths.
A group of five men then attacked the man, leaving the victim with a serious facial injury. A 49-year-old man who tried to help was knocked unconscious.
Staff and other clubbers then came out to help, which caused the gang to run away.
A 32-year-old was taken to St John's Hospital in Livingston for treatment. The 49-year-old declined medical attention.
Det Sgt Graham Garvie, of Police Scotland, said: "Both victims sustained painful injuries during this incident and the 32-year-old's partner was also left extremely shaken and deeply upset as a result.
"A number of witnesses from The Club provided assistance at the time but we are keen to hear from other members of the public who were around the Greendykes Road area in the early hours of Sunday morning and saw the attack, or who can help us identify the suspects, should contact police immediately.
"A female member of the group, who was not involved in the assaults, put herself in the way of her friends to prevent further injury to either victim and we commend her bravery for this. I would now also ask her to get in touch and assist with our inquiries."