Goldfinch masterpiece arrives in Scotland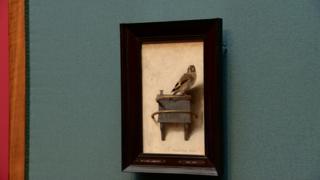 A 17th Century painting of a chained bird that inspired a best selling novel and Hollywood film has arrived in Scotland for the first time.
The Goldfinch, painted by Carel Fabritius in 1654, is usually housed at the Mauritshuis in The Hague.
However, it is being displayed at the National Galleries of Scotland in Edinburgh from Friday.
The masterpiece inspired Donna Tartt's Pulitzer prize winning novel of the same name in 2014.
The book tells the story of a young boy who steals a priceless Dutch painting from New York's Metropolitan Museum of Art after surviving a terrorist attack.
Warner Bros Studios acquired the movie rights for the book and are set to create a big screen version of the story.
The oil painting on a wooden panel measures just 33.5cm by 22.8cm and is considered to be unique among other artworks of the period.
There has been speculations that it might have been intended as a shop sign, part of a piece of furniture or a cover for a box containing another painting.
When it was last shown outside the Netherlands, in New York in 2014, it was seen by a record-breaking 200,000 people, many of whom endured long queues in sub-zero temperatures.
The work has has only been exhibited in the UK on a handful of occasions.
Michael Clarke, director of the Scottish National Gallery said, "Hugely popular since it inspired Donna Tartt's bestselling novel, this is a very rare opportunity for art and literature lovers alike to come face to face with one of the most compelling paintings in Western art."
It will be displayed at the National Galleries of Scotland in Edinburgh from Friday until 18 December. Admission is free.