Lost and framed: Umbrellas used for National Galleries exhibition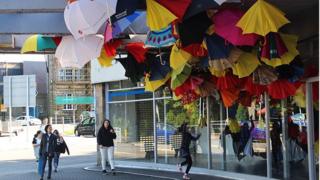 Umbrellas gathering dust in a police lost property office have been given a new lease of life as part of an exhibition at the National Galleries of Scotland in Edinburgh.
The forgotten and discarded brollies, from Fettes Police Station, were donated to artist Juliana Capes.
She created an installation which was first shown at Cupar Arts Festival in June.
A version is now on display at the National Galleries.
The exhibition that it features in SSA 2016 (Society of Scottish Artists). It runs until 24 November.
Police Scotland said it had an ongoing commitment to clearing out its archives of lost and confiscated property.
Several items, including bikes, have been gifted to projects across Scotland.
Artist Ms Capes said: "Working with the lost property department has been very inspiring for me as an artist interested in the poignancy of lost objects."
Supt Andrew Allan from Police Scotland said: "This was a great use of lost property and we are thrilled that the project has done so well."