Embezzling lawyer repays Edinburgh law firm by selling house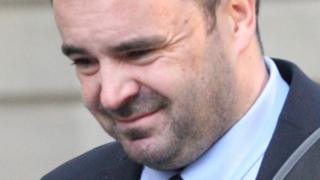 A solicitor, who admitted embezzling more than £21,000 from a lawyers' office in Edinburgh, has sold his home to repay the money.
Paul O'Donnell, 35, pleaded guilty earlier this year to embezzling £21,485 from the legal firm, Thorley Stephenson, in South Bridge, between 1 November 2012, and 1 September 2014.
He was given a restriction of liberty order at Edinburgh Sheriff Court.
The sheriff confined O'Donnell to his house from 21:00-06:00 for six months.
Sentence had been deferred to allow him to sell his home in Glasgow.
Living with relatives
On O'Donnell's last appearance in July, Sheriff Frank Crowe told him: "I would like to see repayment. The firm will have to repay their clients and regain their reputation."
At the previous hearing, fiscal depute, Gerard Drugan, told the court O'Donnell had worked for a firm of solicitors in Hamilton before joining Thorley Stephenson on 1 November 2012.
In 2014, however, there were complaints from 11 clients, who had handed over sums of money to the lawyer, in relation to legal actions they were seeking. The sums ranged from £750 to £1800.
In February 2015, O'Donnell was told he was being detained on suspicion of embezzlement. He made no reply at that time, but later admitted to having had financial difficulties.
At today's hearing, defence solicitor, Murray Robertson, told Sheriff Frank Crowe his client had sold his house and the money had been paid to Thorley Stephenson.
O'Donnell, he added, was now living in Cambuslang with relatives.
He had been sequestrated and declared bankrupt and was no longer practising as a solicitor. His wife, said Mr Robertson, was standing by him.
Sheriff Crowe told O'Donnell that cases like this, involving professional people like himself, usually involved a sentence of imprisonment.