Missing student Antoine Maury search one week on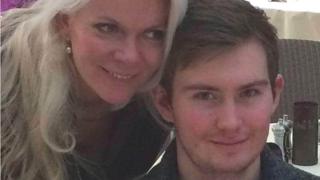 Police in Edinburgh are continuing their appeal to find missing student Antoine Maury, who was last seen in Edinburgh one week ago.
Mr Maury has been missing since on Monday 24 October.
He was last seen at about 22:00 at Edinburgh College's Milton Road East campus when he suddenly left his friends.
Then between 22:45 and 23:00, a man matching Mr Maury's description was seen near Duddingston Village.
The man was seen to be topless and heading to Holyrood Park.
Mr Maury is a white man and of medium build. He is about 6ft, with short brown hair, a beard and a fair complexion.
He has a tattoo of a bleeding hand on his forearm.
He was wearing a brown/green bomber jacket with dark coloured chinos and a white beanie hat at his last confirmed sighting.
He is also believed to have been wearing black and white Vans trainers.
Mr Maury suffers from poor eyesight and usually wear glasses, however police believe he is without them.
Divers are still searching Duddingston Loch and there are police searchers in Holyrood Park.
On Saturday and Sunday about 100 volunteers joined officers in the search around Duddingston Golf Club and Holyrood High School.
Ch Insp Kevin McLean, of Police Scotland, said: "Antione has now been missing for a week and it is imperative that we find him.
"I would like to thank the members of the public who came to the Duddingston area at the weekend to help us find Antoine. This activity was essential and is very much appreciated.
"As before, we would urge anyone who lives in the Duddingston Village area to check their gardens and outhouses, as this may lead us to discovering Antoine whereabouts.
"I would also ask regular users of the park who were there last week to think back and ask if themselves they saw Antoine."