Missing teenager may be with man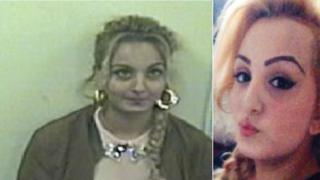 A teenage girl who has gone missing from her Edinburgh home is thought to have disappeared with a man and could have left the country.
Sara Anghel, 15, who is originally from Romania, left her home in Walter Scott Avenue at about 16:00 on Sunday.
She said she was going to Cameron Toll Shopping Centre but failed to return.
It is thought she may have gone to Nottingham with the man. Police are also liaising with port authorities to see if they tried to leave the UK.
Witnesses are being urged to contact the police.
Sara is 5ft 4ins tall, of slim build, with blonde shoulder-length hair and a dark complexion.
She was wearing a brown leather jacket with a fur collar, a black and white knee-length dress and a pink handbag.
Insp Bob Innes, of Police Scotland, said: "It is extremely unlike Sara to leave home without telling her loved ones where she is going, and even more out of character for her not to return.
"We are therefore very eager to trace her quickly and ensure she is safe.
"Anyone who may may be in her company, or who has information as to Sara's current location then please contact police immediately.
"I would also urge Sara to get in touch with her family, friends or with police to tell us where she is and that she is alright."