Man killed girlfriend then watched TV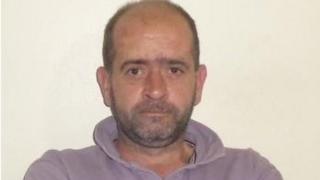 A man killed his girlfriend, then watched football on TV as her dead body lay near him in her Fife flat.
William Marshall, 43, attacked sports therapist Jennifer Edwards at her home in Kirkcaldy between 8-14 June 2015.
He then went on to take cash from the 45-year-old's bank account. It was days later he dialled 999 claiming he had found his girlfriend dead.
Marshall had originally faced a murder allegation before prosecutors accepted his guilty plea to culpable homicide.
He was remanded in custody ahead of next month's sentencing.
He had also been accused of repeatedly assaulting Ms Edwards between October 2010 and June 2015.
This included claims he threw Ms Edwards against a wall, hit her head against a kitchen worktop and tried to strike her with a knife.
A not guilty plea was accepted for that charge.
Black eye
A judge heard how Marshall had been spotted by a neighbour through a window watching TV on 13 June. It is now understood his girlfriend was dead and lying in the flat.
Prosecutor Keith O'Mahony: "A neighbour could see through the living room window he was watching television.
"It was noted this coincided with the live broadcast of a well publicised football game."
Scotland played the Republic of Ireland that evening in a European Championship qualifier in Dublin.
It was the next day Marshall dialled 999 insisting he had "come home" and found Jennifer "was not breathing".
Marshall, from Cowdenbeath, had previously been convicted of attacking Ms Edwards, who once told a friend she feared he would one day kill her.
The couple had been in a five year relationship before the killing.
Ms Edwards had moved to Scotland from New Zealand in 2000. She was a sports therapist at a number of gyms before working from home.
The High Court in Glasgow heard Marshall was already known to be violent towards his her.
In 2014, Marshall was fined after being convicted of assaulting Ms Edwards to her injury.
Mr O'Mahony said there were a total of 84 "domestic incidents" logged by police.
He said: "Numerous witnesses speak of Miss Edwards complaining about Marshall's violence.
"He also made an admission to a family member that he had given her a black eye.
"In March 2015, she told a friend she was frightened he might kill her one day."
A post mortem examination revealed Jennifer had suffered bleeding on the brain.
It was found she had "sustained a number of blunt force injuries" but the "exact mechanism" could not be determined.
Mr O'Mahony said: "Death was placed at two to four days prior to her discovery."
Gordon Martin, defending, said Marshall's memory of the fatal attack is he recalled pushing his girlfriend causing her to bang her head.
However, Judge Lady Rae questioned that stating: "That does not seem consistent to the (guilty) plea to me."