New school opens after legal wrangle in Edinburgh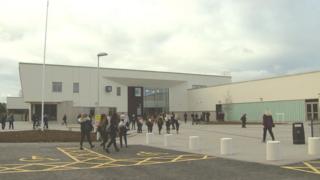 A new school built following a legal wrangle in the community has opened in Edinburgh.
The new Portobello High School in Portobello Park replaces the ageing 1960s building on Duddingston Road.
The new building was delayed for six years because of a long-running row over whether it should be built in Portobello Park.
City leaders were eventually forced to lodge a bill at the Scottish Parliament to ensure the project could proceed.
While most of the community was in favour of building it there, a small but vocal group opposed it, and fought it through the courts.
They argued it should not be built on "common good land" and it would rob the area of green space.
Judges ruled in their favour, but the Scottish government intervened and allowed the building to go forward.
Boasting a swimming pool and two all-weather pitches, the new complex will have space for about 1,400 pupils.
The 1960's multi-storey building on the old site is now being emptied and demolished to make a new park.