Sir Walter Scott's slippers go on display in Edinburgh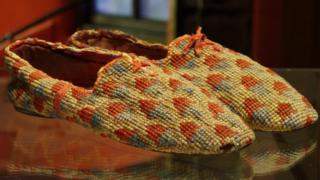 A pair of slippers owned by Sir Walter Scott have been put on display in Edinburgh.
The Scottish author, who wrote Waverley and Rob Roy, was gifted the slippers in 1830 by friends who were saddened by the state of the ones they found him wearing at his home in Abbotsford.
They are on display at Edinburgh's Writers' Museum.
The embroidered footwear will be on loan to the museum for five years from private collector Richard Wiseman.
He bought Scott's size nine slippers from a collection previously owned by the author Sir Hugh Walpole, who is said to have been inspired by Scott's writing style.
A letter from Scott's friend, Lady Honoria Louisa Cadogan, reads: "The only thing we did not admire at Abbotsford was a (pair) of ugly, uncomfortable slippers we saw in (your) study so my daughters hope you will replace them by their's."
Mourning wife
Mr Wiseman said: "We live in one of Walter Scott's former Edinburgh homes and we came across these slippers online by chance.
"We love them, and we want to give other people the opportunity to see and enjoy them too.
"They are certainly well-worn so you never know, Scott might have sat at his writing desk in Abbotsford wearing these slippers to keep him comfortable as he wrote his later novels in the last two years of his life."
Gillian Findlay, curatorial and engagement manager for the museum, said: "Scott's slippers tell such a human story of the need for creature comforts and the compassion the author inspired in his friends, particularly at this vulnerable moment towards the end of his life.
"He was still mourning the loss of his wife and struggling to make ends meet since the banking crisis of 1825.
"He had received advances on books he hadn't written yet but a kind friend took pity on him and had these slippers made as a gift."
Richard Lewis, City of Edinburgh Council culture convener, said: "We recently refurbished the Writers' Museum to include a new gallery dedicated to Sir Walter Scott and this loan adds enormously to the existing display of personal books and items belonging to the author.
"It is fantastic to have a local resident step forward with the offer of this loan and I hope it might encourage further donations to the city's museums so we can continue to add to the mix of items on display. I have no doubt they will generate much interest."