Police helicopter used in missing student search in Edinburgh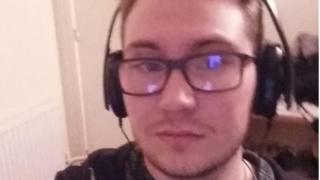 A police helicopter is being used in the search for a French student who has been missing for two days in Edinburgh.
Antoine Maury, 21, was last seen on Monday at 23:00 after leaving friends in Milton Road West in the east of the city.
He is white, of medium build, 6ft with short brown hair, a beard and has a bleeding hand tattoo on his forearm.
Mr Maury has a good level of English, but is unfamiliar with Edinburgh and may have become lost.
Topless
Police said there was a possible sighting of man matching Mr Maury's description in Duddingston on Monday about 23:00.
The man was topless.
Divers from the Borders Water Rescue Team are also searching Duddingston Loch.
Duddingston Village has been searched using police sniffer dogs.
Mr Maury was wearing a brown/green bomber jacket with dark coloured chinos and a white beanie hat when he left friends.
He is also believed to have been wearing black and white Vans trainers.
Insp Alan Carson, of Police Scotland, said about 30 officers were involved in the search.
He said: "Antoine has now been missing for a significant amount of time and we are very concerned for his welfare.
"He is not familiar with the Edinburgh area and could easily have become disorientated and lost.
"We would again call on anyone who has seen Antoine or recognises his description to contact police on 101.
"I would also urge members of the public living in the Duddingston Village area to assist our search by checking their gardens and outhouses, as this may help to establish Antoine's whereabouts."