Ceremony marks Edinburgh's Nelson Monument's 200 years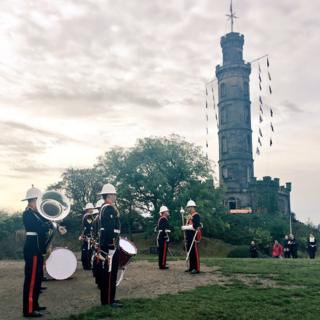 A special ceremony has been held in Edinburgh marking 200 years of the Nelson Monument on the city's Calton Hill.
The HM Royal Marines Band performed and a commemorative plaque was unveiled as part of the Trafalgar Day event.
City of Edinburgh Council officials and crew from the HMS Queen Elizabeth were among those present.
The monument was designed by Edinburgh-born Robert Burn who did not live to see it completed in 1816.
The people of the city agreed to fund the project just over a month after Lord Nelson's famous naval victory at Trafalgar in 1805.
A year later, the final design had been chosen and, in 1807, the site on Calton Hill selected.
The structure is thought to represent an upturned telescope in reference to Nelson's naval career.
Building work began in 1807 but a lack of funds soon stopped construction until a further appeal for support allowed work to restart in 1814.
It was completed in 1816, the year after its designer died.
As well as commemorating Lord Nelson, the monument became a naval signalling station soon after it was completed.
In 1852, a time ball was installed at the top, designed to drop at 13:00 every day sending a signal to distant ships.
On days when the weather was poor the ball could not be seen so, in 1861, a sound signal was added with the one o'clock gun still being fired to this day from Edinburgh Castle's ramparts.