Beer lorry spills load in Hermiston Gait crash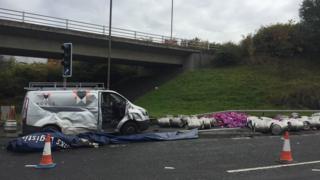 A lorry carrying beer kegs spilled its load after a crash on the M8 near Edinburgh.
Police said an HGV and a silver van were involved in the collision, which happened at about 11.30 at the Hermiston Gait junction.
The road was partially closed, leading to delays in the local area, but has now reopened.
One man was hurt in the crash, but officers said his injuries did not appear to be serious.