Mystery as two empty cars plunge into sea in Edinburgh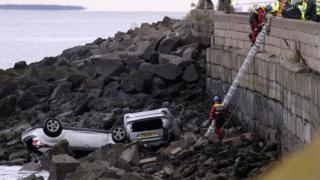 Emergency services are attempting to remove two empty cars that plunged into the sea in Edinburgh.
The cars, which were unoccupied, were spotted by a walker just before 07:00 at West Shore Road in Granton.
Police Scotland said they did not know how the cars ended up in the water but confirmed nobody had been hurt.
A Police Scotland spokesman said: "Inquiries are ongoing to determine the full circumstances surrounding this incident."