Three men jailed after service station drugs bust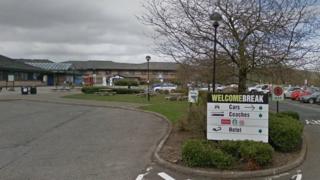 Three men caught by undercover drugs police have been jailed.
Matthew Watt, 21, from Edinburgh, was jailed for four years, Matthew Todd, 26, from Dalkeith, Midlothian for 40 months and Shuaib Dar, 23, from Nelson, Lancashire for 18 months.
Watt and Todd admitted being involved in the supply of cocaine and heroin and Dar admitted being involved in the supply of cocaine in October 2015.
They were sentenced at the High Court in Glasgow.
Street value
The court heard police were carrying out a drugs surveillance operation in the Edinburgh area and Watt was one of the targets.
On 19 October 2015 Watt was seen taking a number of items, including heroin and cocaine to Todd's Ford Focus and storing them inside it.
Then on 21 October 2015 police received a tip-off a courier for a Bradford-based drug dealer was going to deliver drugs to a courier working for an Edinburgh based drug dealer.
At 09:30 Todd and Watt drove in a transit van to the services at Abington on the M74. Ten minutes after they arrived Dar drove into the car park.
Watt got out the van and sat in Dar's car's passenger seat and was given a bag of cocaine.
Watt then got out of the car and walked back to the van and drove off. They were stopped minutes later by police and taken to Lanark police station.
Their van was searched and cocaine with a maximum street value of £8,000 was found.
Watt's house was searched and £11,200 worth of heroin was found.
In Todd's car a bag containing heroin with a maximum street value of £100,000 was found. Other bags had heroin worth an estimated £45,000 and cocaine worth £4,000.
Judge Lord Boyd told all three accused: "You have all been convicted of supplying Class A drugs. This is an evil crime bringing misery to individuals who become addicted to these drugs and bringing misery to communities."
Det Insp David Wright of Police Scotland said: "This intelligence led operation focused on the supply of significant quantities of Class A controlled drugs from England to Scotland.
"The sale and use of illegal substances is a scourge on our community and is a top priority for Police Scotland.
"As a force we are committed to identifying and removing those responsible for the distribution of drugs from our communities and confidential information from the public plays a key part in this."