Engineer fined £20,000 for drug charges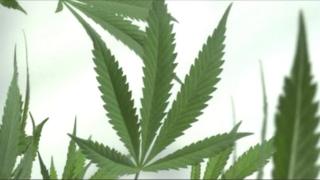 An engineer who brought herbal cannabis through mailboxes in the UK, as a favour to a friend, has been ordered to carry out 250 hours of unpaid work and to pay a fine of £20,000.
Ryan Thomas, 42, had pleaded guilty previously to being concerned in the supply of the drug between November 2013 and April 2014.
He used mailboxes in Edinburgh, Croydon, Soho and London.
The Canadian, living in Edinburgh, was sentenced at Edinburgh Sheriff Court.
Sheriff Thomas Welsh was told that information had been received that amounts of the drug were being brought into the UK, addressed to postal boxes in London and Edinburgh.
'Poor decision'
Suspicion had fallen on Thomas and investigation led to 8.1 kilos being found in Edinburgh and 5.1 kilos in London, a total of 13.2 kilos with a street value of £90,000.
Defence solicitor, Kenneth Sinclair, said his client was anxious to return to Canada to be with his wife and daughter, who had visited him in Edinburgh.
Thomas, he added, had no relevant previous convictions in either country and these offences had occurred two to three years ago.
"He was approached by a friend in Canada when he found out he (Thomas) was coming to England for a concert" said Mr Sinclair.
"He (Thomas) agreed to carry out the offences. That was a very poor decision, especially given his regard for his family".
The solicitor added his client "appreciates the danger these substances can cause".
Mr Sinclair said Thomas had £60,000 in the Bank of Montreal in Canada and could pay a substantial fine.
"He is clearly anxious to follow the path of righteousness" said his lawyer.
Sheriff Welsh told Thomas that the offence attracted a custodial sentence, but he could only impose that if there was no alternative.
"I am of the opinion there is an alternative" he said "but it will be a stringent alternative".
As well as the unpaid work under a community payback order and the £20,000 fine, Sheriff Welsh imposed a six months Restriction of Liberty Order confining Thomas to where he lived between 20:00 and 07:00.
The fine has to be paid by 18 January 2017.