Further indecent exposure incidents in Dunfermline 'linked'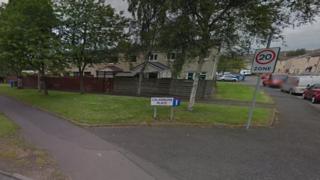 Police are investigating a further two incidents of a man indecently exposing himself in Dunfermline, Fife.
The latest incidents happened at 16:15 on Saturday in Calaisburn Place and at 14:40 on Sunday in Norton Place.
It follows another indecent exposure in Corbett Place in the town at 08:30 on Thursday.
A Police Scotland spokesman said that due to the similar nature and proximity of the incidents, they believed all three may be linked.
Witnesses said the suspect in the Calaisburn Place incident was white, in his late teens ,about 5ft 6in - 5ft 7in, of medium build and with dark, bushy hair. He was wearing a dark jacket, white T-shirt and dark trousers.
'Completely unacceptable'
The man involved in the Norton Place incident was said to be white, in his mid to late teens, about 5ft 8in - 5ft 9in, of medium build and had short, dark hair. He was wearing a dark jacket and dark trousers.
In the Corbett Place incident the man was described as being in his late teens or early 20s with dark, curly, short hair, 5ft 8in and was wearing a dark top.
Det Sgt Kelly McEwan, of Police Scotland, said: "This behaviour is completely unacceptable and shocking for the victims involved.
"We are actively investigating these reports and are conducting high-visibility patrols in the Calais View area.
"We are appealing for anyone who was in the vicinity of any of the locations, and saw anything suspicious, to come forward and get in touch with us immediately."