Road closed after rockfalls on Arthur's Seat, Edinburgh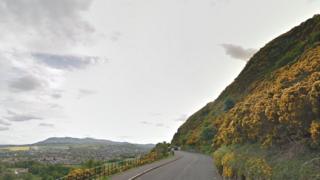 The "high road" on Arthur's Seat has been closed following two rockfalls.
Historic Scotland is assessing the extent of the damage so the area can be made safe following the rockfalls which happened on Saturday and Sunday.
The whole road has been closed to vehicles and a section where the rocks fell is also closed to pedestrians.
Pedestrians are being sent on a diversion via Duddingston. It is not yet known how long the road will be closed.