Edinburgh's Christmas: Thousands of free ice rink tickets for pupils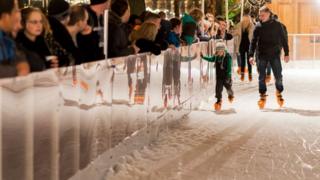 Thousands of free tickets will be released to school children on Tuesday for the Edinburgh's Christmas ice rink in St Andrew Square.
Tickets will only be available to pupils in full-time primary or secondary education, and those under the age of 11 will have to be accompanied by an adult while on the ice.
The Edinburgh's Christmas festivities begin on 18 November.
The event ends on 7 January next year.
The 10,000 free skating tickets, which go up for grabs at 10:00 on Tuesday, follow Standard Life's decision to sponsor this year's ice rink.
Pupils applying for free tickets online will also be asked to make a donation to charity Place2Be.
Richard Lewis, Edinburgh's festivals and events champion, said: "Edinburgh at Christmas is a magical place to be and a trip to the ice rink in St Andrew Square is a fantastic way to get the family feeling festive.
"As the city's largest employer, Standard Life's sponsorship is hugely welcome and it is great to see them give this gift to the city.
"After all, Christmas is a time for charity and children and, thanks to this project 10,000 school pupils across the city are in store for an early Christmas present."