Four arrested over Ryanair flight disturbance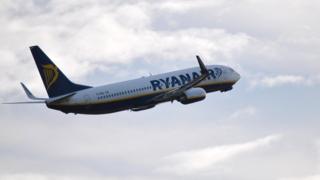 Four passengers have been arrested by Spanish police after a disturbance on board a Ryanair flight from Edinburgh to Alicante.
Ryanair said the four were detained after they became "disruptive" during the three-hour journey, which departed Edinburgh at 10:40 on Thursday.
The airline said that the men had been removed and then detained by officers on arrival at the Spanish airport.
They added that the aircraft had landed normally.
In a statement, Ryanair said: "The crew of this flight from Edinburgh to Alicante requested police assistance upon landing in Alicante, after four passengers became disruptive in-flight.
"The aircraft landed normally and the individuals were removed and detained by police in Alicante.
"We will not tolerate unruly or disruptive behaviour at any time and the safety and comfort of our customers, crew and aircraft is our number one priority. This is now a matter for local police."