Radio hacker 'caused havoc at Edinburgh airport and hospital'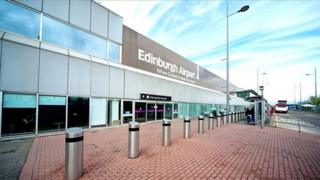 A hacker who caused "havoc" by blocking the radio frequencies for planes, trains, shopping centres and a hospital has had a six-month curfew imposed on him.
Jamie Corrigan was 17 when he started tapping into the signals "as a prank".
Edinburgh Sheriff Court heard calls on the Air Traffic Control frequency at Edinburgh Airport interfered with aircraft and emergency vehicles.
Network Rail also reported attempts to redirect moving trains.
Corrigan, now 20, has now been banned from leaving his home between 22:00 and 06:00 for the next six months.
He was also ordered to forfeit radio equipment.
Corrigan, of Niddrie House Square, Edinburgh, had previously pleaded guilty to charges of culpable and reckless conduct by making repeated radio transmissions which caused fear and alarm, potential endangerment and making abusive and offensive remarks.
His targets also included Edinburgh Castle, the Royal Infirmary of Edinburgh, NSL Services Group, and Westside and Cameron Toll Shopping Centres.
Medical staff
The court heard the offences took place between 1 June 2014 and February 2015.
Edinburgh Castle received a call implying there was an explosive device there.
Calls to the Royal Infirmary interfered with the movement of medical staff and equipment.
NSL Services Group received repeated transmissions threatening violence and sexually abusive and offensive remarks.
The two shopping centres were said to have been plagued with offensive and abusive remarks, with one call to the Westside Centre preventing security guards contacting the emergency services for an injured person.
At an earlier hearing, defence solicitor Andrew Houston told Sheriff Frank Crowe that Corrigan had "perceived it as juvenile pranking".
He said the young man was "uncomfortable and embarrassed about what he had done and didn't want to acknowledge the seriousness of his actions".
Sheriff Crowe described his conduct as outrageous and added: "I am extremely concerned about the whole thing."
The sheriff ordered the forfeiture of all of Corrigan's radio equipment apart from three laptops and two sets of headphones. He will review the Restriction of Liberty Order in December.