Refuse collectors' early finish scrapped in Edinburgh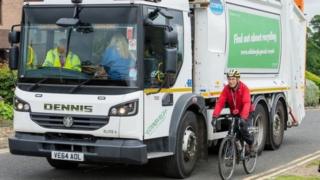 Refuse collectors in Edinburgh will no longer be allowed to finish their shift early if they have completed their route.
A long-standing working practice known as task and finish allows workers to go home up to four hours before the end of their shift.
Workers are now being told the system will change by the end of October for safety reasons.
The Unite union said more investment was needed in refuse collection.
Concerns have been raised that the system could encourage workers to rush their work, leading to unsafe practices.
'Phoney war'
Lesley Hinds, City of Edinburgh Council's transport and environment convener, said: "I would like to take this opportunity to thank the waste workforce for their co-operation over recent years, during which the service has undergone major changes, including seven-day working and increased recycling collections.
"Staff have really stepped up to the mark during this period.
"As a coalition we have committed to ending the practice of task and finish by the end of October, and are in the process of briefing staff on this.
"It is our aim that these changes will help us make real improvements to our waste and cleansing service, in turn benefiting the public."
Peter Lawson, Unite's City of Edinburgh Council convener, said: "We have a clear message for council members - their phoney war about working practices will not solve the fundamental problem of a lack of investment in the city's refuse services.
"Our members have been struggling to keep the city clean in the face of massive cuts. Edinburgh's environmental services budget has fallen by at least £17m in real terms since 2009.
"The council needs to be honest with people. Pretending that changing working practices is going to fix problems is not helping anyone.
"Councillors need to admit that the service is underfunded, and start having an open conversation with Edinburgh's citizens and the Scottish government about how to address that crisis."