Car crash survivor Laura Torrance in driving warning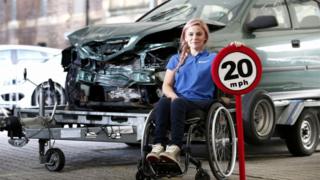 A woman who suffered life-changing injuries in a car crash has been warning teenagers about the dangers of driving.
Laura Torrance has been a wheelchair user since 1999 when she was seriously injured in an accident at 16 years old.
Organisers of the multi-agency event in Edinburgh believe her input will give sixth-year pupils an insight into the devastating impact crashes can have.
Road crashes are the biggest cause of death between the age of 15 and 19.
There are an average of 54 accidents a week in Scotland involving a young driver aged between 17 and 25.
Ms Torrance said she has had good feedback from the talks she has already given.
She said: "My intention is to let people know that driving can be fun, as long they do it safely - wear their seatbelt, have the confidence to speak up if they're in a car with someone they don't feel safe with or is going too fast.
"Because they (the pupils) are seeing me and it's a real-life story, they seem to get quite a lot from that, so my hope is the message will stay with them once they leave here."
The 33-year-old from East Kilbride, South Lanarkshire, told how she was a passenger in a car being driven by a friend who had just passed his test.
They were five minutes from home on a single-track road when the car took a corner too quickly and rolled into a field.
She woke up in a ditch and later discovered she had a spinal injury.
Reflecting on the experience, Ms Torrance said: "It's not been easy. Life's been a bit more challenging. Even still, after 17 years, I still get my odd day when things don't go according to plan.
"This was not how I thought my life would pan out for me. It's been challenging but I still do a lot of things I probably would have done if I hadn't been in my chair."
The four-day Streets Ahead Edinburgh Young Drivers event is being held at the Corn Exchange until Thursday.
About 2,000 youngsters will have taken part in the sessions by the end of the week.
As well as meeting Laura, pupils are also being given the opportunity to try out a range of interactive activities highlighting the dangers of driving.
Insp David Hynd, of Police Scotland, said: "Reducing the number of people killed or seriously injured on our roads is a priority, not only in Edinburgh but across the country, and we are delighted to support this very useful and worthwhile event.
"Education is essential in reducing the number of young drivers involved in road collisions."
Adam McVey, City of Edinburgh Council's transport vice convener, said: "There's no doubt it's an exciting time in a young person's life when they first get behind the wheel as a newly-qualified driver.
"However, the statistics on road casualties and deaths among young people make for very sobering reading.
"Our Young Drivers events drive home some very hard-hitting messages in a fun and engaging way."