Thief holds up Edinburgh shop with knife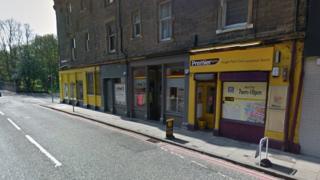 A thief has stolen a three-figure sum of money during a knifepoint robbery at an Edinburgh shop.
The incident happened just after 21:00 on Monday at the Premier Convenience Store in Angle Park Terrace.
A 25-year-old man was serving a woman when the thief entered the shop with the knife.
He made off towards Fountainbridge with cash from the till, which he put into a black laptop bag. Police are appealing for witnesses to come forward.
The thief was white, about 30 years old and of medium build, with blue eyes and a light strawberry-blond beard.
He was wearing a navy blue hooded top with white drawstrings, distinctive yellow gloves and a balaclava-type garment on his face.
Det Sgt Robbie Wallace, of Police Scotland, said: "Neither the staff member, nor the customer were injured during this robbery, but both were left extremely shaken and we are eager to hear from anyone who was in the area at the time and remembers seeing anything suspicious.
"We have a very detailed description of the suspect and I would ask that anyone who believes they may have seen this male, or who knows where we can locate him, to contact police immediately.
"In addition, anyone with any further information relevant to this investigation should also get in touch."