Convicted killer Zain Dean wins extradition appeal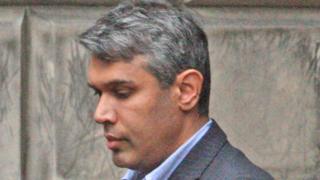 An Edinburgh man who was the subject of Taiwan's first ever extradition case has won a human rights challenge to be allowed to stay in Scotland.
Zain Dean, 45, was convicted of killing a newspaper vendor in a hit-and-run collision while drunk in 2010.
Dean was sentenced to four years in jail for killing the man but absconded to Scotland using a friend's passport.
He set up home in Edinburgh changing his name by deed poll to Callum Rafael Scott.
Dean lived in the capital for over a year before he was arrested by police in October 2013.
Threat of attack
At the Court of Criminal Appeal in Edinburgh, Mr Dean's legal team successfully argued that sending the businessman back to the country contravened the European Convention on Human Rights because prison conditions in Taiwan were poor and that Dean was under threat of attack.
Dean faces a further extradition request over absconding from Taiwan.
In her judgement, Lady Paton wrote: "I am satisfied that substantial grounds have been made out in believing that even if all the undertakings and special conditions were to be fulfilled, there remains a real risk of treatment of the appellant which is incompatible with his human rights in terms of article three of the European Convention on Human Rights.
"Accordingly, the appellant's extradition to serve his sentence in Taipei prison would not, in my opinion, be compatible with the convention.
"As a result, it is my view that the appeal should be allowed. I propose that this court orders the appellant's discharge and quashes the order for his extradition."