Edinburgh Airport flight path consultation out next year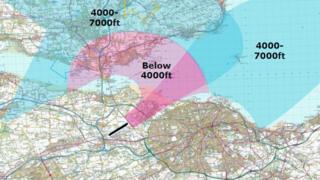 A detailed report on Edinburgh Airport's initial consultation on altering flight paths is due to be finished in January.
Thousands of responses will help guide proposals that officials will put forward for the second stage of the consultation, set to begin early in 2017.
Scotland's busiest airport received more than 5,000 responses.
The first phase in the consultation closed on Monday.
It ended a week later than planned after the airport was forced to apologise for losing almost 200 responses.
Edinburgh Airport asked for views on its "airspace change programme" in June this year.
Airport bosses have revealed the consultation website has been viewed about 80,000 times.
However, they said no changes could be made to existing flight paths until a further stage of consultation, proposing specific routes, was completed and the plans approved by the Civil Aviation Authority.
Some residents said they were already affected by noise pollution from changes in the flight paths and have accused the airport of pushing ahead with airspace expansion without considering other ways to increase capacity.
Peace and quiet
An Edinburgh Airport Watch spokeswoman said: "Although the airport is 'consulting', they have already changed the pattern of use of the airspace.
"We want them to change it back and restore to residents the peace and quiet we value so highly and believe that the airport has robbed from us."
Gordon Robertson, the airport's director of communications, described the level of feedback as "excellent" and said he acknowledged some people had "real concerns" about flight path changes.
He said: "Our data analysis team are working on delivering a detailed report on the first stage of our public consultation which will show detail on sentiment and the geographical spread of the feedback responses.
"Crucially, the responses we received will also help us map the design of the proposals that we put forward for the second stage of the consultation - set to begin early in 2017.
"We recognise that some people have very real concerns. The aim of the consultation process is to allow us to grow to meet the ever-increasing demand on our runway at peak times while minimising disruption on the ground."
The proposed implementation of new flight paths would also coincide with the use of RNAV navigation technology, which will allow the airport to increase the number of aircraft which can take off and land.