Star Trek film to be screened at Linlithgow Palace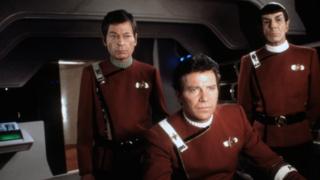 A Star Trek film is to be shown at Linlithgow Palace to mark the 50th anniversary of the sci-fi franchise.
A message recorded by Star Trek actor Simon Pegg will be played before the screening of 1982's Wrath of Khan.
Pegg plays chief engineer Montgomery "Scotty" Scott in the most recent movies in the franchise.
Linlithgow is the birthplace of the character, played for many years by Canadian actor James Doohan, according to Star Trek script writer DC Fontana.
Saturday's event will be the first time a film has been shown at the 600-year-old palace.
Star Trek II: Wrath of Khan, which sees Scotty play the bagpipes, is considered by many Trekkers to be one of the best, if not the finest, of the 13 Star Trek movies.
Its director Nicholas Meyer has also recorded a message to be shown ahead of the screening in Linlithgow.
The event has been organised by VisitScotland, Historic Environment Scotland, Linlithgow BID and Film Mobile.
About 200 Trekkers are expected to attend.