Scotland's Richard Gadd wins Edinburgh Comedy Award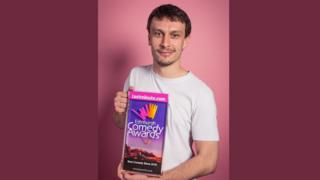 Scotland's Richard Gadd has been announced as the winner of this year's Edinburgh Comedy Award.
The 26-year-old Fife comic picked up £10,000 for his show Monkey See Monkey Do.
He was the first Scot to be nominated for the prestigious Edinburgh Festival award in 23 years and is the first Scottish winner since Arnold Brown in 1987.
Scott Gibson, from Glasgow, won the Best Newcomer award.
Iraq Out & Loud which involved about 2,000 people, including a host of comedians, writers, and politicians, staging a non-stop, live streamed reading of the Chilcot Report in to the Iraq War, won the Panel Prize.
Gadd, who was sexually abused four years ago, spends a large part of his show, described as a "deeply intense and personal exploration of masculinity and anxiety", running on a treadmill.
His show examines who he is and what it means to be a man.
Previous winners of the best show award include Al Murray - The Pub Landlord, Russell Kane and Rich Hall.
Nica Burns, director of the lastminute.com Edinburgh Comedy Awards, said: "A record-breaking year for Scotland with a double Scottish win.
"Richard Gadd's highly original, extraordinary show combines hilarity and heart and Scott Gibson is a brilliant stand-up who can make a near-death experience funny."