King penguin made a Brigadier in Edinburgh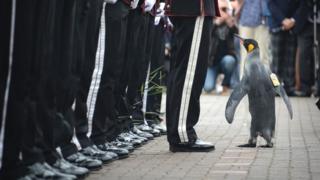 A King penguin at Edinburgh Zoo has been made a Brigadier by the King of Norway's Guard.
Nils Olav was given the honour by members of the Norwegian guard who are performing at the Royal Edinburgh Military Tattoo.
There have been three penguins called Nils Olav at the zoo, which have been mascots of the Norwegian King's Guard since 1972.
The second Nils Olav was knighted in 2008.
Brig David Allfrey, producer and chief executive of The Royal Edinburgh Military Tattoo, said: "This is just a simply fantastic example of the great relations between our two countries, and it couldn't be a more charming tradition.
"At the Tattoo we of course have many inspecting officers but this is by far my favourite. Congratulations, Brigadier Olav."