Four cars set on fire in West Lothian prison car park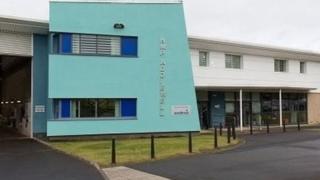 A gang who set fire to four vehicles in a West Lothian prison car park are being sought by police.
Staff at HMP Addiewell raised the alarm last Friday when the blaze broke out.
Three men wearing balaclavas were seen getting out of a blue Range Rover Evoque at about 19:45 and starting the fire before driving off.
About half-an-hour later, two men were seen setting fire to the Range Rover in Harvesters Way in Edinburgh before fleeing in a silver car.
A fifth car was vandalised in the prison car park incident.
'Fear and alarm'
Officers believe it was an isolated incident with no ongoing threat to the general public, but the fire caused thousands of pounds of damage.
The investigation has found the Range Rover was stolen from outside a house in Queen Margaret Close in Edinburgh, sometime between 7-8 August while the owners were on holiday.
An Audi A3 was also stolen in the same incident but has since been found by police.
Det Insp Paul Batten, of Police Scotland, said: "We are satisfied that this was an isolated incident and there is no ongoing threat to the general public.
"However, this was a brazen attack that caused several thousand pounds worth of damage as well as significant fear and alarm.
"I'm appealing to anyone who saw the blue Range Rover Evoque at any point between Monday 8 August and Friday 12 August to come forward immediately.
"Likewise, anyone who has information relating to the housebreaking in Queen Margaret Close between 7 August and 8 is asked to come forward."