Sheep killed in dog attack in Midlothian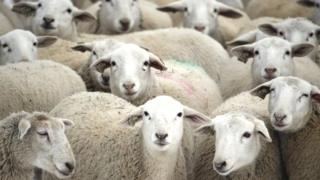 A sheep has been killed and five others animals injured during a dog attack in Midlothian.
The police were called when a homeowner reported sheep had escaped from a field in Roslin.
Officers want to speak to the owner of two dogs seen in the area at about 05:50 on Tuesday.
The first dog is a black Labrador cross with a red collar. The second is a white, tan and black dog. Police are appealing for witnesses.
Sgt Michele Lindsay, of Police Scotland, said: " I am disappointed to hear about this sheep worrying incident and wish to reassure members of the public that we are taking this seriously.
"We are committed to tackling rural crime and are working with farmers, landowners and businesses in the rural parts of Midlothian to raise awareness of such crimes and take measures to prevent them.
"Our advice to anyone walking and exercising their dogs in the countryside is to ensure they are under control at all times and avoid going into fields where livestock is grazing.
"The Scottish Outdoor Access Code says that dogs shouldn't be taken into fields where there are lambs or other young farm animals."