Sally the swan 'eaten by fox' in Queen's park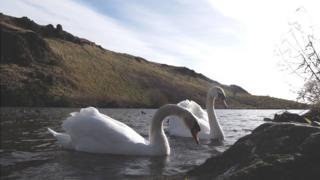 A female swan, one of a well known pair called Sid and Sally, at an Edinburgh city centre loch has "most likely" been eaten by a fox, rangers said.
The mute swan, which has been living with her mate for at least 16 years on Dunsapie Loch in Holyrood Park at Arthur's Seat, vanished more than a week ago.
The male swan, or cob, can still be seen at the park.
Sid was badly injured in a dog attack in 2009.
At the time it had been feared that Sally would find a new mate while Sid was undergoing weeks of treatment to a bitten tail. But she was reunited with him weeks later after waiting for him.
Now Sid has been left without his mate on the loch. Experts said Sid would stay at the loch, as it is his territory, and he would attempt to attract a new female.
The pair had been together for at least 16 years.
A spokesperson for Historic Environment Scotland, which manages Holyrood Park, said: "Our Holyrood Park rangers have received a small number of inquiries regarding the pen, or female swan, of a bonded pair of swans on Dunsapie Loch.
"Unfortunately, we suspect the pen was killed by wildlife, this was most likely to have been a fox attack.
"The male swan, or cob, can still be seen in this area of the park."