Big wheel in Edinburgh reopens after safety checks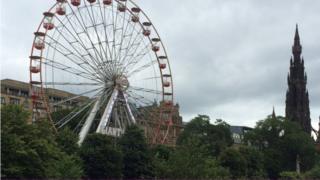 The big wheel in Edinburgh has been retested after it was revealed it had been inspected by the man who gave the all-clear to a rollercoaster which crashed in Motherwell in June.
The 44-metre Ferris wheel closed on 27 July and reopened on Wednesday following independent checks.
The new checks did not find any faults with the wheel, which is in Princes Street Gardens for the festival.
City of Edinburgh Council officials had told operators M&D's to stop the ride.
Eight children and two adults were injured on Sunday 26 June after a rollercoaster derailed and crashed at the M&D's park near Strathclyde Park in North Lanarkshire.
The incident involved the Tsunami ride, which can travel at up to 40mph through corkscrew turns and loops.
One eyewitness at the time said people were trapped upside down on the ride following the crash.
An inspector who issued a safety certificate for the rollercoaster 16 days before it crashed was later banned from working.
An M&D's Events spokesman, said: "Following discussions with Edinburgh City Council, we took the decision to temporarily close the attraction to allow for an additional inspection, carried out by a certified independent expert.
"The Edinburgh Festival Wheel passed the inspection and was reopened on Wednesday for visitors to enjoy."
A City of Edinburgh Council spokeswoman, said: "The ride was temporarily closed while precautionary checks were carried out."